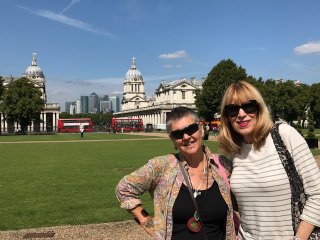 London and Greenwich
We had an opportunity to utilize Rachel for a tour of London and Greenwich.
We were interested in a tour, that was off the beaten path, and not your classic London tour. Her knowledge of the area is unparalleled, steeped in culture, and rich in history.
She asked us a few simple questions of our interests, and created a unique and special tour for us. Knowing my wife had an interest in sailing, interwoven into our tour, we stopped by the Mayflower, went to the Maritime Museum, and saw Greenwich meantime.
After a brief discussion about Art, Rachel purchased tickets for us to see the Thornhill painted hall ceiling tour at the old Royal navel college. She saved it for last, and it was the highlight of our day.
Her families 250 year history in London allowed Rachel to take to us communities we never would have experienced on our own. In addition, she gave us many tips and recommendations which enhanced our visit to London and the surrounding area.
We found her to be charming, witty, colorful, and a total joy to be with. Your trip to London, would be immeasurably enhanced with a tour with Rachel.