Rachel's tour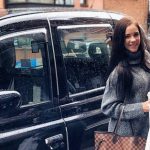 I have so many great things to say about Rachel. This was my first trip to London, England and just like any first time tourist of a new city, all they want to do is explore and learn about the place they are touring.
Rachel took me right under her wing and made me feel so welcome and comfortable. She has fantastic knowledge of the town she lives in and she takes such great care when driving on the road.
The touring services that Rachel offers are affordable and well worth it. She will take you to where ever you want to go and the best part of it all… she is just as excited to be in the town as you are. Rachel is very passionate about what she does because it shows.
I one-hundred percent recommend Rachel as a tour guide. I had so much fun with her and I can't wait to go back to visit her again.
Love from Canada,
Maddison Fysh